Learning from Peer Education Advocates
Charli Cooksey
At this month's North City Education Power-Building Academy we reviewed themes of U.S. education policy from the last four centuries. We asked ourselves to reflect on these policies–in particular, how they have impacted our lives. Following this, we discussed characteristics of effective educational systems. As the day continued, our cohort developed a collective education policy initiative to advocate for in the coming months. Stay tuned for more!
On Saturday afternoon leaders in education reform joined us to share their varied experiences and perspectives of St. Louis' public education systems.
Haliday Douglas, Director of Talent Strategy and Management, SLPS

Jana Haywood, Principal of Elementary School, SLPS

Mike Jones, Member, Missouri State Board of Education

Susan Jones, Member, Saint Louis Public Schools Board of Education

Dr. Katrice Noble, Deputy Director, Lift For Life

Marcus Robinson, Executive-in-Residence, The Opportunity Trust

Michael Vargas, Member and President, San Benito Consolidated Independent School District; Manager of Candidate Ready Development, Leadership for Educational Equity
We send a big "Thank you!" to the group for sharing their candid stories with us! Our organizing potential is truly energizing!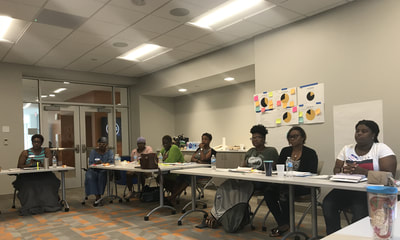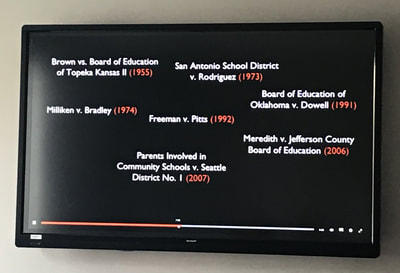 Top left: Post-its with clarifying questions from our training about using data to help analyze our education system. Photo by Monti Hill
Top right: Panelists reflect on their time advocating for public schools. Photo by Monti Hill
Bottom left: Power-builders hear from panelists.
Bottom right: A slide show identifies landmark cases in US education history.